Is Snapchat the Future of Social Video?
For about five years now, people in the digital world have been talking, communicating, with each other in ways that no words can even begin to describe. Initially balked at by their colleagues in 2011, the ingenious creators and developers of Snapchat, then called Picaboo, are now seeing increased usage that can almost rival Facebook and other social media networking sites and platforms.
The secret is no secret at all. Pictures and videos has always been used as a means to communicate something. However, the traditional use of photos and videos – to immortalise memories – has been notched up higher to document feelings of the moment.
Pictures that convey your feelings at any given point in time can be communicated to the outside world, not to be immortalised, but simply to share your thoughts without uttering a single word. Let the images do the talking. And if you are worried someone might share those images or videos to the outside world, with timed destruction, they'd have to have fast fingers to take a screenshot of your picture or video post.
Snapchat's Growing Popularity
From its modest beginnings in 2011, Snapchat now handles no less than 8 billion videos every single day. Compare this to Facebook's equivalent daily video output of 8 billion from its 1.55 billion users and you can see that clearly, Snapchat's users are uploading and watching more videos than Facebook users.
Take note that the number of Facebook users is about 15 times more than Snapchat's. Additionally, more than 65 percent of all Snapchat users are uploading their own pictures on a daily basis compared to Facebook's 35 percent.
Many experts believe that this is an indication of user engagement on the Snapchat platform. Many believe that Snapchat users look at the platform more as an extension of their own image, their own personal brand, so to speak.
Snapchat is also gaining ground among the Millennials with around 76 percent of them using the platform. Although it still has a long way to go to catch up with Facebook's 25-hour monthly usage, at 5 years old, Snapchat's 6-hour monthly usage is a feat in itself considering the number of social media networking platforms today.
Should Snapchat Matter to Brands?
Since Snapchat is viewed as more of an extension of one's personality, industry experts now believe that the platform is one sure way to showing the rest of the world what kind of individual, organisation, or business one is. Because photos and videos are real personal moments, Snapchat allows users to create fantastic and highly relatable storyline.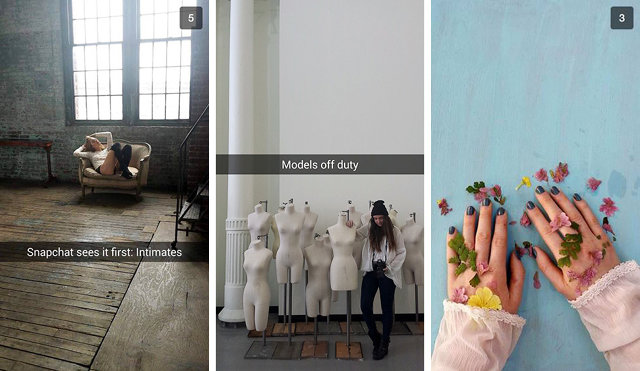 For businesses looking to drive engagement , Snapchat provides an ideal platform for storytelling. Brands can create and share meaningful and highly relatable content with users who are more engaged compared to other popular social channels, such as Twitter and Facebook. As such, growing a follower base on Snapchat can be seen as a great way to improve your brands image and reach a younger demographic with creative, and highly engaging visual content.
Snapchat Demographics
More than 12 percent of Snapchat users in the US belong to the 35-54 year old age group with 76 percent accounting for the Millenials, the 18-34 year age bracket. In 2015, Snapchat added 84 percent new users who were aged 35 years old and above while adding 103 percent new users in the 25 to 34 year-old age bracket.
These figures were more than the expected rate of new adoptees in the 18 to 24 age bracket at 56 percent. Every single day, close to 50 million Americans use Snapchat. Additionally, 41 percent of 13 to 17 year olds use Snapchat, according to a Pew survey.
How People and Brands Use Snapchat
One of the most often asked questions by new Snapchat users is the practical applications of this social media platform. The whole point about Snapchat is to share unadulterated photos and videos of funny and quick moments.
It is akin to posting a snapshot or a snap video of a single moment in one's life. As such, like moments that come and go, users can post just about anything and within a few seconds, the whole post will be gone, like life's moments.
People use it for a variety of purposes, mostly to share quick and funny moments. Some use it to chat, albeit with pictures and videos instead of words. Brands use Snapchat as a real-time engagement platform with their customer-follower base. Businesses use it to encourage Snapchat users to participate and at the same time have fun.
The whole point about Snapchat when it comes to businesses is that they can highlight behind-the-scenes stories to build brand image. Additionally, brands can also highlight deserving employees, productive team outings, safe workspace environments, innovative products and releases, creative product teasers, and even celebratory content.
Snapchat and Businesses
Because Snapchat is still relatively new at 5 years, not many businesses have discovered its true potentials. In fact, Snapchat has only really taken off in 2014, about 3 years after its inception as Picaboo. However, with no less than 100 million active Snapchat users every single day sending more than 400 million Snaps, the opportunity for social media marketing is high. This is especially true when you consider that 76 percent of all Snapchat users belong to the 18 to 34 age group.
The question now is how businesses can take full advantage of the growing popularity of Snapchat. Exclusive promotional offers can be given out to followers owing to the 24-hour expiry of Snapchat's Stories. This gives businesses the unique opportunity to post coupon codes as well as host flash sales.
Businesses can also use Snapchat to build customer or follower anticipation, the what's next phenomena. When used properly, it can become an excellent tool to build excitement to a new product release or even a much-awaited event.
Businesses can also use Snapchat for giveaways as a means to further entice followers into engaging. Some companies like GrubHub have been known to provide giveaways to initiate a one-on-one interaction with their Snapchat followers giving a more personal experience. Businesses can also take full advantage of Snapchat's image and video integration. Create meaningful stories with a seamless video and image presentation.
Snapchat's phenomenal rise to social media platform fame can be attributed to the creators' understanding of the unique needs of today's digital users. Is Snapchat the future of social video? In a word, yes.